What's Its Color: Did You Say, "Deep Autumn?"...
If you've been reading along, you know I have been all over the "what colors are in my hair and eye and skin?" thing, mostly with
Color Your Style
, by
David Zyla
. But a couple of weeks ago, someone posted a link on Facebook to
What's It's Color?
, a website that will identify the top ten colors in any picture you submit.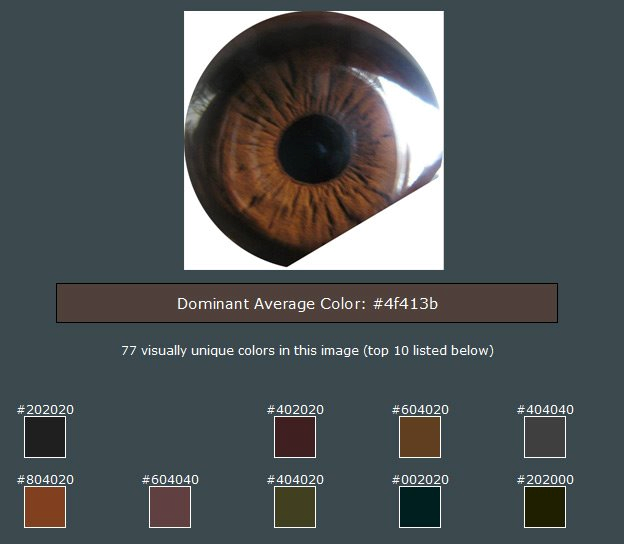 I played with it for quite some time, both with my own pictures and some of my friends' pics. To my surprise, the ones of my eyes and skin had lots of deep autumn colors! And I realized I had been wearing those colors already, right alongside my warm autumn colors.
And then, just the other night, I found out about other free color extraction websites online and found even more colors in my eyes...
Deep Autumn Color Palette
...
(photo credit: Jane Rekas)
Warm Autumn Color Palette
...
(photo credit: Jane Rekas)
(photo credit: Indigo Tones)
To be fair, there were
warm autumn
colors, too, and some overlap between the two! In fact, most of my eye colors are warm autumn colors. As was mentioned in a previous post about which autumn I might be, I think I am
on the deep side of warm autumn and on the warm side of deep autumn
, and this process helped to confirm that idea. I consider myself to be a
warm autumn leaning deep
.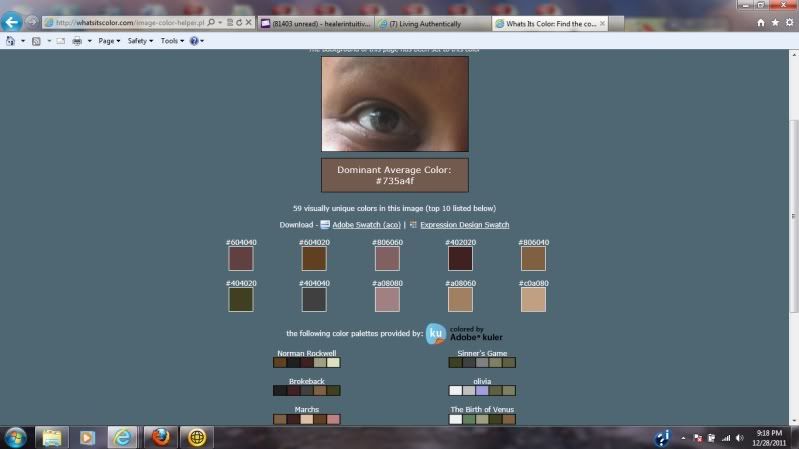 What's Its Color for Seasonal Color Analysis
...
So maybe you can't take any one picture and use it to determine your season, but it
can
help you identify colors you can wear. And it should help you land in one broad season, like autumn or spring. And may help to confirm the season you already suspect.
I found
another website
that, if you put in the color numbers, will tell you the color names. Here are some of mine...
The browns:
brown, reddish brown, dark grayish reddish brown, grayish brown, dark grayish amber
The olives:
dark olive, very deep olive, dark grayish olive, grayish olive
The yellows:
very dark gamboge, dark grayish gamboge
The vermilions (red-orange):
dark gray vermilion, grayish vermilion, moderate vermilion, dark vermilion, very dark vermilion
The grays:
yellowish gray, dark gray, dark apple greenish gray, very dark gray, reddish gray, dark crimsonish gray, dark ceriseish gray, dark vermilionish gray
The reds:
moderate rose, moderate red, moderate amaranth
The tangelos (orange):
moderate tangelo, dark tangelo and grayish tangelo
Give it a try and let me know what you discover! For more information about the colors I discovered, and how you can discover your own, check out
best colors to wear
.
~*~*~*~*~*~*~*~*~*~*~*~*~*~*~*~*~*~*~*~*~*~*~*~*~*~*~*~*~*~*~*~*~*~
Having trouble deciding which season you are? I'd be happy to help!
Start the process of finding your season by taking my
seasonal color analysis quiz
~*~*~*~*~*~*~*~*~*~*~*~*~*~*~*~*~*~*~*~*~*~*~*~*~*~*~*~*~*~*~*~*~*~
Warm Autumn:
"This woman never pretends. She won't say something just to flatter you unless she believes it to be true. She cries harder than anyone at a funeral. She is fiercely loyal to her family but will not spare them hard work or spoil them with extravagance. She may seem to absorb a lot of demands but when she draws the line at enough, everyone knows it." ~~Christine Scaman, 12 Blueprints