What I Wore: My Holiday Capsule Wardrobe
During Six Items or Less
...
Recently, in a comment, someone asked me if I would be sharing my own holiday capsule wardrobe now that the
Six Items or Less
Challenge is over.
Although I didn't highlight them, even during the challenge, I made an effort to honor the holiday season in my outfits, so I thought I would share some of them in this post. I've tried to add red and/or green wherever I could this month.
This first outfit is what I wore the day the challenge ended and is probably my most "holiday-like" outfit so far.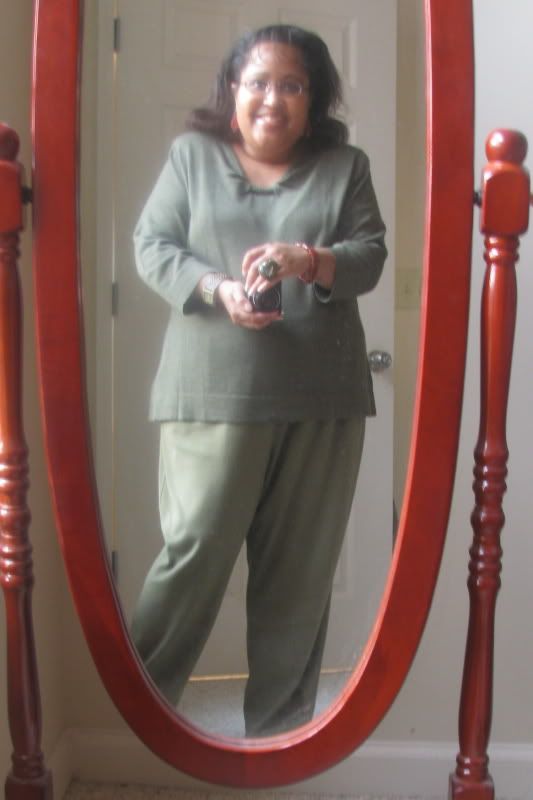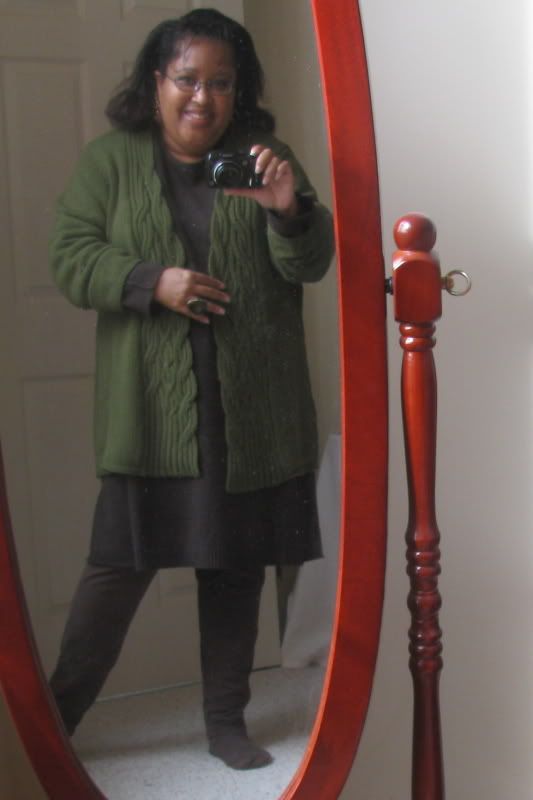 And one day last week, it was cold enough to add a green sweater to my brown sweater dress and leggings.
What We Wore: Our Holiday Capsule Wardrobe for a Gift-Wrapping Party
...
Later in the week, I got all of my gifts wrapped. I wrapped my sons at home, and then he and I went to a gift-wrapping party! It was fun, but long before we finished, my son's excitement had worn me out and I was ready to go home.
Still, it was fun to go and to wear a "uniform" or outfit I have worn several times in the past couple of weeks, my brown sweater dress, brown leggings and red scarves...
I even tried gold, but wasn't sure I really liked how the scarf looked. I wore it once a week or so ago, but put on a red scarf for the party.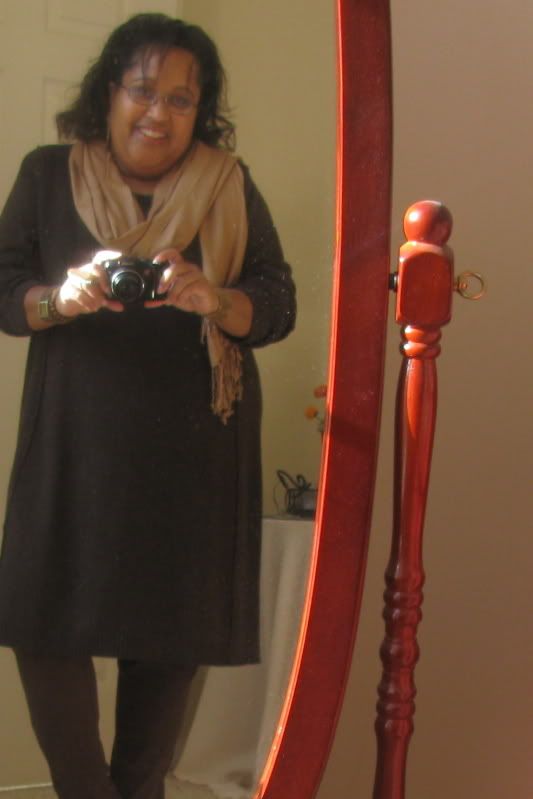 My son wanted to take a picture with our Charlie Brown tree before we left!
What I'd Like to Wear All Year-Round Once the Holidays Are Over
...
I am linking up today with Nina from Momma Go Round for Real Momma, Real Style and on Wednesday, I will link up with Lindsey at The Pleated Poppy for What I Wore Wednesday.
Blogging Around the Christmas Tree...
Though I'm a little late to the party, I'm also linking this post to the holiday attire round-up Nina's having over at her place. Head over there for some holiday party inspiration!
Is it just me or does it make you sing, too? "Blogging around the Christmas tree...."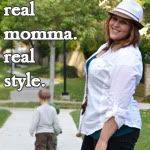 ~*~*~*~*~*~*~*~*~*~*~*~*~*~*~*~*~*~*~*~*~*~*~*~*~*~*~*~*~*~*~*~*~*~
Having trouble deciding which season you are? I'd be happy to help!
Start the process of finding your season by taking my
seasonal color analysis quiz
~*~*~*~*~*~*~*~*~*~*~*~*~*~*~*~*~*~*~*~*~*~*~*~*~*~*~*~*~*~*~*~*~*~
Warm Autumn:
"This woman never pretends. She won't say something just to flatter you unless she believes it to be true. She cries harder than anyone at a funeral. She is fiercely loyal to her family but will not spare them hard work or spoil them with extravagance. She may seem to absorb a lot of demands but when she draws the line at enough, everyone knows it." ~~Christine Scaman, 12 Blueprints