Six Items or Less: Today's Outfit
...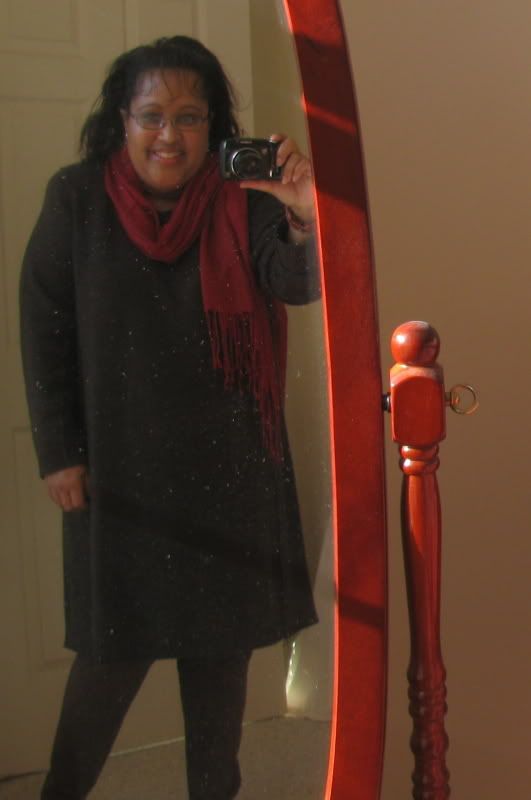 Six Items or Less: A Month of Outfits
....
I have to admit that I am really, really glad to get to the final day of this wardrobe challenge! Though I'm always glad for the experience, I think this wasn't the best time of the year to do it.
I was very distracted by Christmas. This is a time of year when I spend less time working and more time hanging out with family, watching Christmas movies, lighting Christmas candles, reading Christmas novels, so it was hard to keep my focus on checking in with the Six Items or Less community.
But I also got bored with my six. Now, that happens every time, but during this cycle, it happened much sooner. I think that may have been because early in the cycle, I realized what a good "uniform" I had created with my sweater-dress-as-tunic with leggings and a scarf. And that was my only insight this time around. After that sunk in, I was ready to call it done and wear some of my other clothes!
The weather was a complication, too. I thought it would be cold most of the time, and the weather just did not cooperate. So I never knew from day to day what I would be able to wear and that was frustrating. It even led to my swapping out a couple of things in my capsule wardrobe to accommodate the warmer temps.
Still, I'm glad I did it and may do it again next time. I only hope it will be during a time when the weather is all cold or all warm and it isn't a holiday season.
Meanwhile, I can't wait to wear
the rest of the clothes
in my closet!!
Six Items or Less: My Favorite Outfits
...
~*~*~*~*~*~*~*~*~*~*~*~*~*~*~*~*~*~*~*~*~*~*~*~*~*~*~*~*~*~*~*~*~*~
Having trouble deciding which season you are? I'd be happy to help!
Start the process of finding your season by taking my
seasonal color analysis quiz
~*~*~*~*~*~*~*~*~*~*~*~*~*~*~*~*~*~*~*~*~*~*~*~*~*~*~*~*~*~*~*~*~*~
Warm Autumn:
"This woman never pretends. She won't say something just to flatter you unless she believes it to be true. She cries harder than anyone at a funeral. She is fiercely loyal to her family but will not spare them hard work or spoil them with extravagance. She may seem to absorb a lot of demands but when she draws the line at enough, everyone knows it." ~~Christine Scaman, 12 Blueprints