Six Items or Less: This May or May Not Be My Six
...
For the second unseasonably warm and humid day in a row, I wore my green sweater again, this time with my new dark brown corduroy pants. Oddly enough, they were extremely comfortable, but this lightweight sweater made me feel sticky and sweaty!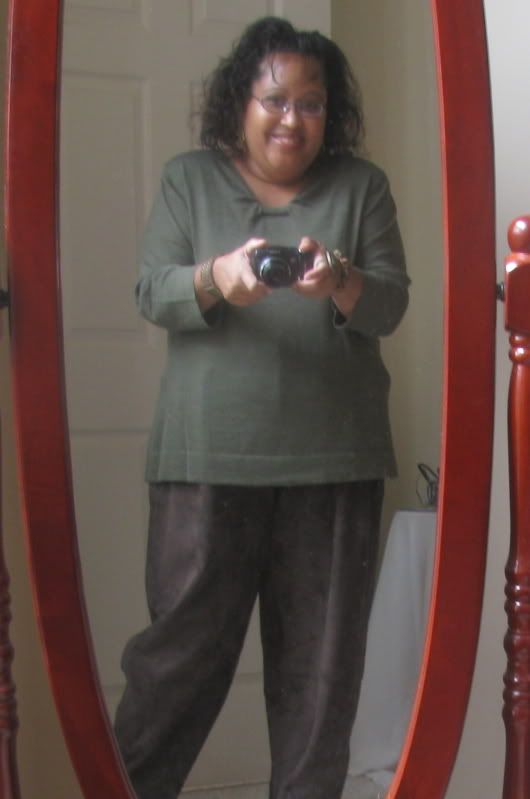 Six Items or Less: Right Now, It's All about the Weather
...
The low for today was in the 60s, if that tells you anything! And I have to say, I expected it to be cooler during this last half of November. So I am rethinking my six, and frankly, considering cheating!
I think I made a mistake when I chose that sweater. I wanted to have something green for December and thought I might wear it a time or two to church. But I also thought that it would still be comfortable even on days that were warmer than others.
That was my
warm weather
choice!!
But I see now that sweater material, no matter how light, is probably not a good idea in the heat. And my car is not air-conditioned and a few degrees warmer inside than out. Something else I didn't consider!
Six Items or Less: With a Different Six?
...
Now I wish I had chosen my yellow pullover! So I am not sure what I will do now. I could add it in and take out one of my other choices.
None of them will feel all that wonderful in the heat, either, but if it cools off, even a little, they each make an excellent part of my six. And the possibly of 16 outfits really appeals to me.
But will it get
that
cool? So that I could comfortably wear a sweater dress with a sweater? If not, maybe I need to add in another warm weather shirt.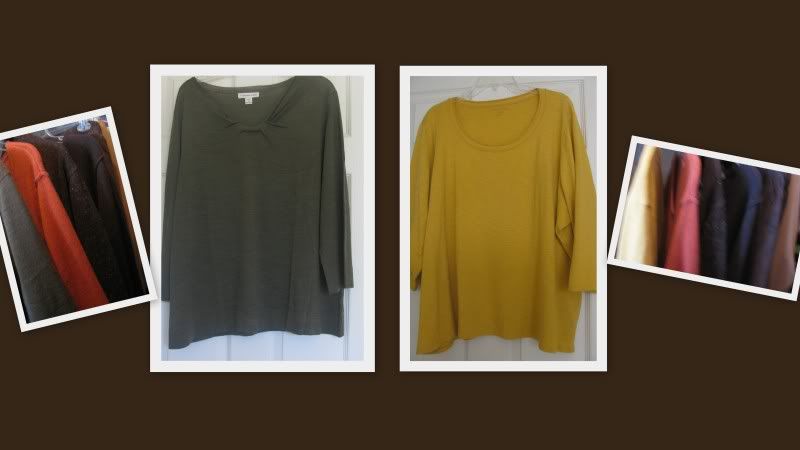 What do you think I should do? I truly have not even begun to decide, but the way I feel today, I am not sure I ever want to wear that green sweater again.
So I may decide to swap out the green sweater for the yellow pullover, even though that is "cheating" because I have worn it already.
~*~*~*~*~*~*~*~*~*~*~*~*~*~*~*~*~*~*~*~*~*~*~*~*~*~*~*~*~*~*~*~*~*~
Having trouble deciding which season you are? I'd be happy to help!
Start the process of finding your season by taking my
seasonal color analysis quiz
~*~*~*~*~*~*~*~*~*~*~*~*~*~*~*~*~*~*~*~*~*~*~*~*~*~*~*~*~*~*~*~*~*~
Warm Autumn:
"This woman never pretends. She won't say something just to flatter you unless she believes it to be true. She cries harder than anyone at a funeral. She is fiercely loyal to her family but will not spare them hard work or spoil them with extravagance. She may seem to absorb a lot of demands but when she draws the line at enough, everyone knows it." ~~Christine Scaman, 12 Blueprints