Celebrity Seasonal Color Analysis: Nicollette Sheridan
...
Yesterday, I watched movies all afternoon with my son, and the first one was Honeymoon for One, on the Hallmark Channel, with Nicollette Sheridan. I noticed how good she looked in the colors she was wearing and identified her as wearing light spring colors.
However, she does dye her hair and I am not sure that they didn't just match that when choosing her outfits.
Comparison of the Light Spring Color Palette to the Soft Autumn Color Palette
...
They are both blended seasonal color palettes, with both warm and cool colors, but the light spring color palette has brighter colors with more yellow as an undertone. The soft autumn color palette has softer and deeper colors that are more golden.
Recent Soft Autumn Outfits (before I got my hair done)
...
I wore the outfit with the brown pants to get my hair done the other day. As usual, I didn't do much with either makeup or jewelry...
That shirt is almost the exact color of my skin, which means it creates almost no contrast at all, so adding makeup or a scarf might have made the outfit even better. I love that shirt! As you'll see because in the pictures below, I'm wearing it again...
Today's Soft Autumn Outfit (after I got my hair done)
...
It's awfully curly, I know, but will be less so by the time I go to Dressing Your Truth conference later this week.
Linking up today with Nina at
Momma Go Round
for
Real Momma, Real Style
and on Wednesday, I will link up with Lindsey at the
Pleated Poppy
for
What I Wore Wednesday
and Claire for Fashion Wednesdays.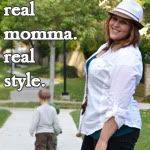 ~*~*~*~*~*~*~*~*~*~*~*~*~*~*~*~*~*~*~*~*~
~*~*~*~*~*~*~*~*~*~*~*~*~*~*~*~*~*~*~*~*~